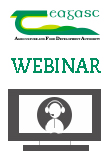 National Crops Forum - Part Two
17 September 2021
Type Event Proceeding

The annual National Crops Forum took place virtually this year due to Covid19 Restrictions. Part Two of the forum took place on Thursday, 16th September and focused on Carbon Farming & Nitrate Leaching.

Topics covered & speakers include:
Tillage and carbon farmers - The Future
Dr. Gary Lanigan, Teagasc Johnstown Castle
Trapping nitrate losses from Tillage Farms
Edward Burgess, Agricultural Catchments Programme, Teagasc
A questions and answers session took place that the end of the webinar.
Watch Part Two of the Forum back below
Part One of the forum took place on Thursday, 9th September and focused on Agronomy & Grain Markets. Watch it back here