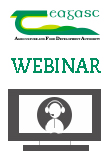 Teagasc Crop Agronomy Webinar - May 2021
04 May 2021
Type Event Proceeding

The fourth in a series of Teagasc Crop Agronomy Update Webinars took place on Tuesday, 4th May 2021. Teagasc researchers, specialists and advisors updated growers on crop agronomy for the coming weeks.

Teagasc researchers, specialists and advisors discussed strategies to controlling weeds, disease and pests on crops from around the country. The webinar looked at cereals, beans, and beet and also how to get the best from the plant protection products used on your farm.
The topics covered included:
Getting the best from Plant Protection Products

Protecting the environment while spraying; Nozzles and drift reduction; Managing your chemical store

Crop Agronomy update

Winter crops agronomy – crops across the country

Beet agronomy

Coping with the loss of herbicides

Bean agronomy

Achieving effective disease control; Key agronomic decisions for the coming weeks

Spring barley agronomy
View webinar recording below
Listen to an episode of The Tillage Edge podcast below which covers the webinar
Dermot Forristal and Francis Quigley, Teagasc talk through the options for reducing drift control and how to select the correct nozzles, water rate and pressure. The experts also chat through how to get the best coverage in different crops.

John Pettit, a Teagasc advisor in Wexford, talked through management of winter cereals and he said the dry weather and the resulting lower disease pressure gives some scope to better tailoring fungicide spends this year.