International Food Security
In recognition of the increasingly global nature of agriculture, and in particular of the 'Grand Challenges' which face agriculture, countries in the developed world are stepping up their support for agriculture in the poorer regions of the world. Issues such as threats of new diseases to crops and livestock, threats to the safety of the food we consume, the growing challenge of climate change and depletion of natural resources impact on food and agriculture globally and highlight the responsibility of all countries to play their part in ensuring that there will be sufficient safe and high quality food available and accessible to all.
In recent years, Teagasc has emphasised the need to consider the challenges to Irish agriculture within the context of the global challenges in relation to food security and climate change. The organisation's Statement of Strategy (PDF, 2MB) now describes Global Food Security as one of the key-drivers of the national policy context.
---
Featured Project
Potato Centre of Excellence: Ethopia
---
Links
Context - Role of Agricultural Research and Development in the Developing World
Agriculture in the developing world faces unprecedented challenges. Rising and volatile food prices, coupled with increasing pressure on natural resources, have emerged as severe threats to the world's poor and hungry. Climate change and variability will exacerbate these threats in the coming decades. At the same time, rapid advances in science and technology, combined with a better understanding of small-scale producers' needs, offer unprecedented opportunities
There is growing recognition among governments and donors that agriculture must be a prominent part of the development agenda. It is important for delivering growth in agriculture-based countries, for reducing rural poverty and addressing the environmental agenda. Agricultural productivity growth is vital for stimulating growth in other parts of the economy. Accelerated growth will require a sharp productivity increase in smallholder farming and more effective support to the millions of subsistence farmers, many of them in remote areas.
Science and technology solutions are critical to meeting growing demand for food, maintaining market competitiveness and adapting to and mitigating climate change. Agricultural research helps generate new technologies and improved policies--key drivers of growth in agricultural productivity and resilience. This involves promoting, strengthening and reforming Africa's agricultural research, technology dissemination and adoption efforts. Currently, chronic shortcomings affect many of the continent's agricultural research and extension systems. Institutional issues such as capacity weaknesses, insufficient end user and private sector involvement. There is also a lack of coordination between different research institutions and between research and extension.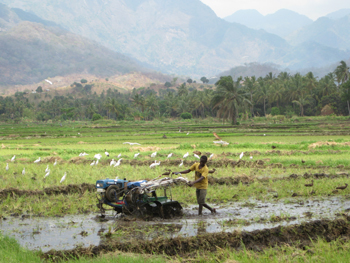 As the national body responsible for agricultural research and knowledge transfer in Ireland, Teagasc has a responsibility to support the national effort aimed at strengthening agricultural development and reducing hunger and under nutrition in underdeveloped countries. In a time of significant resource constraints, this agenda can be best pursued by aligning and coordinating our efforts and resources with those of other national and international organisations, in particular those of Irish Aid and Irish NGOs, such as Vita.
The background to, rationale for and statement of policy and strategy is set out in:
International Food Security: Teagasc Policy and Strategy for Research and Knowledge Transfer.
This document outlines our approach to utilising our capacity in agriculture and food research, knowledge transfer and education for the benefit of agricultural development in poorer countries. The policy builds on the long-term experience and knowledge of the organisation and of individual staff members in contributing to technical assistance projects in developing countries.
It is envisaged that our engagement will consist of focused contributions by way of a flexible network of staff members and coordinated by an internal Food Security Committee.
With a view to enhancing the effectiveness of the national engagement in agriculture for development, Teagasc has taken the lead in bringing together a number of the leading organisations involved in overseas development to form the Irish Forum for International Agricultural Development (IFIAD). IFIAD was established as a voluntary, multi-disciplinary platform to share knowledge and good practices and to bring together Ireland's acknowledged excellence in development and the agri-food sector for the benefit of agricultural development programming and policy in support of Ireland's development objectives.
The underlying premise for establishing IFIAD was the recognised need for a more effective multi-disciplinary engagement in the area of agricultural development and the identified opportunity to better leverage Irish expertise in this area for the benefit of development programmes overseas. The Forum aims to bring together all of the Irish players, researchers, policymakers, industry, and practitioners involved in the agriculture for development field with a view to strengthening the research-policy-practice interface and maximising the Irish contribution to agriculture-driven poverty reduction in developing countries.
See www.ifiad.ie
November 2017
Launch of Ireland-Kenya Agri-Food Strategy 2017-2021
Minister for Foreign Affairs and Trade, Simon Coveney, launched a new Ireland-Kenya Agri-Food Strategy 2017-2021 in Nairobi on 8th November. The Strategy was developed by the Irish Embassy in Kenya in association with Dr Lance O'Brien (Teagasc) and with input from other Irish Forum for International Agricultural Development (IFIAD) partners.
The Strategy identifies significant opportunities for Ireland and for Teagasc to strengthen mutually beneficial knowledge and institutional partnerships around agri-food. In his speech, the Minister highlighted the role of Teagasc in developing the strategy and he stated that Teagasc would play a key role in helping to deliver on the implementation of the Strategy.
---
October 2017
Dairy Development Programme in Eritrea
Dr Seamus Crosse and Mr Tom Ryan visited Eritrea for ten days on a new project in relation to Teagsac support for a commercial dairy project involving the establishment of a large dairy herd (~300 cows and followers) together with the establishment of a dairy processing unit with capacity (30,000L /day) to process own milk as well as milk from catchment area. The Mission arose from an earlier mission in April 2017 where the follow up involved an invitation by Teagasc to Mr Abraham Michael and Azeb Tseggai of Azeb Company Limited, to visit Ireland so as to get an understanding of the dairy production system in Ireland as well as medium scale milk processing. Following the visit to Ireland, it was agreed that Teagasc would provide consultancy service in relation to a new dairy initiative by Azeb Production Limited. Terms of Reference agreed for the Mission include; To provide support to Azeb Company Limited in relation to: (1) the preparation of business plans. (2) to design milking and associated dairy cow facilities for circa 300 cows. (3) To provide advice in relation type and source of dairy processing equipment as well as on building design.
---
October 2017
IFIAD Conference
The second Annual IFIAD Conference on the theme of Agriculture in the Delivery of One Health was held in Iveagh House, Dublin on Monday 23 October 2017. Programme, presentations and additional resources on One Health are available at: http://www.ifiad.ie/annual-conference-2017/
---
October 2017
Successful PhD defences
Yenenesh Tadesse and Waga Mazengia, two of the PhD students working on the Chencha Potato Project in Ethiopia, successfully defended their theses in Wageningen University The project involves a collaboration between Teagasc, Wageningen University and the Irish NGO Vita . The PhD students worked at the crop, farm and community level to identify and solve constraints to production and develop further seed potato interventions. As a follow-up, Mr Larry O'Loughlin and Mr Peter Leonard spent a week in Chencha with a view to agreeing a technology transfer project which will draw on the new information from the PhD research projects.
---
August 2017
Visit to Teagasc by Researchers from Mozambique
As a follow up to the MoU signed between Teagasc and IIAM (the Mozambique Institute of Agricultural Research), a team of IIAM researchers, funded by the Irish Embassy in Mozambique, visited Teagasc between 28th and 31st August. The team sought to gain an understanding of Teagasc's role and strategy in supporting the development of Ireland's agri-food sector and, in particular, to learn about the development of the Irish dairy sector, the role of Teagasc, and how some of the Irish experience could be transferred to Mozambique. At the conclusion of the visit, it was agreed that IIAM will forward a report to Teagasc by the end of September outlining a couple of key actions they would like to work on with Teagasc to help advance their dairy industry. The Irish Embassy in Mozambique is committed to supporting Teagasc in this endeavor.
---
July 2017
IFIAD World Food Day Conference 2017
The Irish Forum for International Agricultural Development (http://www.ifiad.ie/) will host a conference on World Food Day, 16th October, 2017 in the Department of Foreign Affairs, Iveagh House, Dublin. The theme for the event is One Health: How Ireland is contributing to the international debate on the links between human health, animal health, agriculture and the environment.
Full details of the event, including registration, are available on the IFIAD website.
---
July 2017
Visit to Teagasc by Eritrean Food Entrepreneurs
Mr Abraham Tseggay and Ms Azieb Tseggay Weldetensaie ( mother and son ) who operate a dairy farm and small cheese processing plant near Asmara, Eritrea, spent the first week of July in Ireland learning about dairy farming and processing. Abraham plans a major extension of his dairy farm and processing facilities and in planning for this he visited a number of Irish dairy farm and small dairy processing companies. He also spent some time in Moorepark and visited Moorepark Open Day. Teagasc has undertaken to provide technical support for his expansion plans. The development of the larger processing facility will be of great benefit to the small farmers who are part of the Teagasc pilot dairy production project in Eritrea, which benefits from Irish Aid funding.
---
June 2017
Dr Lance O'Brien joins Vita Board
Dr Lance O'Brien has joined the Board of Vita, the international development organisation, with effect from June 2017. Teagasc signed an MoU with Vita in 2011 and has been working closely with them on projects in Eritrea and Ethiopia.
---
March 2017
Launch of book on Potatoes
Professor Gerry Boyle, Director, launched a new book- Growing the Potato Crop" by former Teagasc stalwart and renowned potato expert John Burke – in Teagasc Headquarters on 28th March.
The book, which is expected to be a significant game changer for potato farmers in East Africa, focusses on improving potato productivity in sub Saharan Africa. Effectively it is a training manual for farmers, crop specialists, agronomists and extension workers across the region and beyond. It provides practical guidelines to improve crop productivity, combined with an astute application of the scientific principles underpinning those guidelines. It is based on John's own expertise, accumulated through his vast experience of working with Teagasc, Vita and the potato farmers of Ethiopia and Eritrea.
Through John's expert guidance, over 12,000 farmers in East Africa have already seen their yields increase by 300% on average, while the programme is now being rolled out in five more sub Saharan countries.
---
May 2017
Working visit to Teagasc by Delegation from Vietnam
A delegation from IPSARD (the policy development unit of the Ministry of Agriculture and Rural Development (MARD), Vietnam) spent the period 2-5th May on a working visit in Teagasc Athenry with the support of the Irish Embassy in Vietnam. The delegation focused on developing capacity in the field of building economic models to forecast impacts of market volatility and policies on farm households (micro level) and agricultural sector (meso level). It is expected that the visit will lead to further collaboration between IPSARD and Teagasc and further work by the Teagasc Policy Modeling Team in strengthening Vietnamese capacity.
---
May 2017
Working visit to Teagasc by Kenyan researchers
The Irish Embassy in Nairobi and Teagasc supported t a working visit by Dr Joseph G Mureithi and Dr Foustine Wandera from KALRO in Kenya to Teagasc from 17th to 21st April, 2017. The purpose of the visit was to learn and explore potential areas of collaboration in livestock research, particularly on beef and dairy production and product development. The specific topics of interest were beef cattle finishing, meat science, value addition of livestock products and pasture/forage development. This visit builds on the MOU between Teagasc and KALRO and will involve some capacity building activities for KALRO staff in the area of livestock production.
---
May 2017
Working visit to Kenya
On the invitation of the Irish Embassy in Nairobi, Dr Lance O'Brien spent the period 21-26 June on a working visit in Kenya. He visited a number of universities, farmer training colleges, KALRO (the Kenyan Agriculture Research Organisation) as well as participating in a workshop in the Irish Embassy on strengthening Irish/Kenyan links in agri-food. A Framework Paper has been prepared following the workshop which will involve additional investment by the Irish Embassy in strengthening trade links and institutional relationships.
---
May 2017
---
February 2017
Kenyan Invitation
Dr Lance O'Brien and Dr Edward O'Riordan were invited to visit Kenya over the period 28th November-2nd December 2016. The visit was undertaken at the request of the Irish Embassy in Nairobi and coincided with the visit of a small Irish delegation led by Mr Joe McHugh, TD, Minister for the Diaspora and Overseas Development. Activities undertaken included a mixture of official meetings and events with the Minister's delegation and separate meetings organised by Teagasc only.
On Friday, 2nd December, the Teagasc personnel participated in a round table meeting, hosted by Minister McHugh, on strengthening Ireland-Kenya links in agriculture. The session was attended by a wide range of Kenyan and Irish business people. Dr O'Brien was invited to make a presentation on the development of Ireland's agri-food sector, the key factors underpinning success of the sector and possible learnings for Kenya. This was followed by a wide ranging discussion.
New Project in Ethiopia
Teagasc has signed an agreement with Wageningen University and Research Centre (WUR) to participate in the AFER+ project in Tigray Province, Ethiopia. The objective is to develop a prototype Decision Support Tool (DST) of relevance to smallholder farmers, for crop and soil specific nutrient advice, based on data that can easily (e.g. visually) be obtained in the field.
To deliver on this ambitious objective, AFER+ brings together and builds on a number of existing significant research initiatives and research institutes, specifically:
The Tigray Agricultural Research Institute (TARI), which participates in the National Taskforce for development of Decision Support Tools for Appropriate Fertilizer Recommendation;
Teagasc (the Irish Agriculture and Food Development Authority) which leads the EU Horizon 2020 project LANDMARK (Land Management: Assessment, Research, Knowledge base);
GIZ (Deutsche Gesellschaft für Internationale Zusammenarbeit), which funds and operates the Integrated Soil Fertility Management programme in Ethiopia;
Wageningen University and Research, which manages the CASCAPE project in Ethiopia.
AFER+ is structured as a cluster of three 'nested' PhD projects, in which three Ethiopian students work to address the same research question, but at a range of scales:
PhD 1 will aim to elucidate the plot-level processes that underlie differences between soils in their capacity to supply nutrients.
PhD 2 will build on this and develop a prototype decision support tool at farm scale.
PhD 3 will assess the prototype decision support tool within the framework of Functional Land Management at community level.
---
---
---
Official Launch of IFIAD 13 October 2016
The official launch of the Irish Forum for International Agricultural Development (IFIAD) will be performed by Mr Joe McHugh, TD, Minister of State for the Diaspora and Overseas Development Aid at The RDS (Minerva Suite), Ballsbridge, Dublin 4 on Thursday, 13th October 2016 at 9 am.
For further details, see: www.ifiad.ie
---
Teagasc Visit to Vietnam, 9th to 19th September 2016
Professor Gerry Boyle, Director and Dr Frank O'Mara, Director of Research, visited Vietnam to explore and develop a series of concrete options for Teagasc involvement in the Vietnam IDEAS Programme 2017-20 (www.irishaid.ie). Some of these would then be prioritised and piloted in 2017 and, subject to initial piloting, be continued for the 2018-20 period. The Mission involved meetings and site visits with the Embassy, key Ministries (MPI, MARD) provincial government, research institutes, education institutes, other relevant donors, Vietnamese companies, Irish food companies, and farms. It also included visits to Hanoi and HCM, including the HCM province.
---
Visit of Mr Arefaine Behre, Eritrean Minister of Agriculture to Ireland, 26th June to 5th July 2016
The invitation to Mr Arefaine to visit Ireland was issued by Teagasc, with the backing of Irish Aid and the support of Vita and Gorta Self-Help Africa (Gorta SHA). This was primarily a technical visit during which the Minister gained a clearer understanding of the role of Teagasc in developing Irish agriculture and got to see different types of commercial Irish farms and small food companies. The Minister is particularly interested in the Teagasc integrated model of research and knowledge transfer and is keen to establish a similar model in Eritrea. He has a particular commitment agricultural development based on research and knowledge transfer.
---
Irish Experts in Eritrea for Pioneering Dairy and Potato Programmes
---
Irish Times article on Teagasc involvement in Ethiopian potato project:
Potatoes are nuggets to save Ethiopia as Ireland shares years of expertise (PDF)
---
Teagasc and UCD held a workshop on Global Food Security in the RDS on Friday, 13th June. The event was aimed at research, education, policy and NGO professionals, and attracted an audience of 100. Full details of the programme can be accessed at:
Food Security Workshop - 13 June 2014 (PDF)
---