09 March 2022
Grass10 Newsletter - 8th March 2022
The Grass10 Newsletter features 2 chances at beginner PastureBase training; a research farm update from Curtin's farm, Cork; Cathal Irwin, Mayo on the BeefEdge podcast; early spring grazing with Jason Coulter in Sligo; plus Grass10 weekly tips and checklist; grass growth predictions and more here
186th Edition - 8th March 2022
Grass10 Weekly Tips
Farmers who measure grass weekly utilise more grass and earn more money. This spring there is even more to be gained given the current input prices. Farmers should begin measuring grass weekly and recording this data through PastureBase Ireland. Your weekly report will take the guess work out of grassland management allowing you to utilise more grass and begin the 2nd grazing rotation on time.
Farmers have responded brilliantly to the nutrient advice on early spring fertiliser. Research has shown the response to chemical fertiliser applied in March will more than pay for itself even at current prices. With that in mind, and a large demand for grass in April on many farms, the advice now is to apply 23-30u N/ac where ground conditions and forecast is suitable. Especially on paddocks which have received no fertiliser or slurry to date. Heavy covers should also be spread to stall sward deterioration and speed up the regrowth on these paddocks after grazing.
Ground conditions are good in most parts after a spell of dry weather, however it is looking unsettled for the week ahead. Dairy farmers have commented on the boost in milk yield from grass in the past week. To continue this farmers should try keep cows out at grass as much as possible using on-off grazing if necessary. For farmers still catching up on % grazed, they should aim for 2 x 3hour grazings per day. Walk paddocks to check ground conditions after rainfall.
Farms catching up with grazing should be guided by the spring rotation planner available on PastureBase. It is crucial for farms with over 40% grazed to date and farms where AFC is below 750 Kg DM/ha to complete a grass budget on PastureBase. The target AFC at the beginning of the 2nd rotation is 550-600 Kg DM/ha. The grass budget is a roadmap to get you there. This tool will ensure you utilise the most grass in spring and create the right wedge of grass to begin the 2nd rotation. Walk weekly, record the covers and update your budget.
Grass10 Featured Farmer
Grass10 Featured Farmer Video

New to PastureBase Ireland? Keep the 10th March free!
Similar to our beginner PastureBase training in early January, the Grass10 & PastureBase Ireland team are delighted to announce that we will be running 2 training courses for beginners on Thursday 10th March at 1pm and again at 7pm! Click below for further info and to register
The Clover Reporter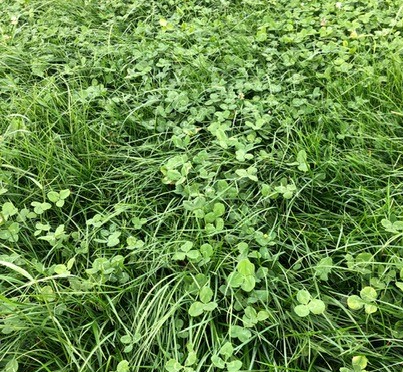 This section will give weekly reports and videos from farmers who have a lot of clover established on their farms.
On this weeks edition of the Clover Reporter, beef farmer Trevor Boland from Dromard, Co. Sligo gives us a profile of his farm and the methods of clover establishment in 2021.
Sign up for weekly grass 10 newsletter