Prudent Use of Antibiotics
Antibiotics should be used to maintain animal health and welfare where necessary, in other words they should be used prudently. To use something prudently means to use it in a wise, cautious and economical manner. Prudent use of antibiotics means that the antibiotics are both prescribed and administered in a responsible manner. The prudent use of antibiotics is essential to maintain their efficacy.
In farming prudent use means that the correct medicine is used to treat the particular disease that has been accurately diagnosed; the medicine is administered at the correct dose rate, for the correct duration and to the correct animal.
Right veterinary diagnosis; accurate diagnosis by a veterinary practitioner is essential to identify if an animal is suffering from a bacterial infection and requires an antibiotic to treat this infection.
Right animal; only the animal with the bacterial disease should be treated with the antibiotic unless veterinary advice suggests that, not to treat in contact animals would lead to a disease outbreak and a serious impact on animal welfare. An example of such a situation might be a case of pneumonia in a pen of young calves
Right veterinary medicine; antibiotics should only be used when necessary. When a bacterial disease is present the antibiotic chosen for treatment should be effective to treat the bacteria causing the disease.
Right dose; antibiotics should be administered as per the instructions on the prescription. Animal weights should be estimated as accurately as possible as under-dosing animals increases the development of resistance.
Right duration; not finishing the prescribed course of treatment will not fully treat the disease and will accelerate the development of resistance to this antibiotic.
Right storage and disposal; in order to maintain efficacy medicines should be stored according to the manufacturer's instructions. All out-of-date medicines, containers and application equipment should be disposed of correctly. Antibiotics should NOT be disposed of with domestic rubbish, poured down the drain or toilet as this will lead to the development of resistant bacteria.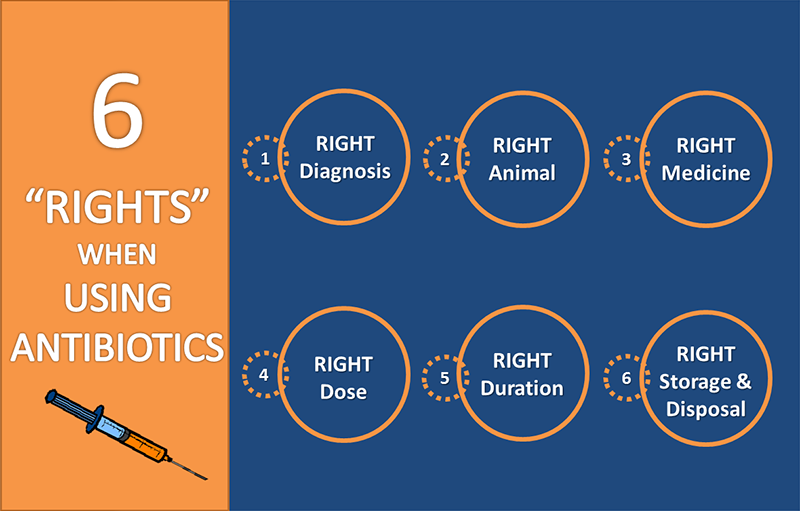 Prudent Use Case Studies
The following case studies demonstrate the prudent use of antibiotics on beef, sheep, dairy and pig farms. In these cases changes have been implemented that have reduced, refined or replaced the use of antibiotics on farms.
Prudent Use Case Study - Sheep
Prudent Use Case Study - Dairy
Prudent Use Case Study - Poultry
Prudent Use Tools
This tool was designed to help Irish dairy farmers and vets monitor their antibiotic use. Medicines used on the farm can be entered into the calculator and the products will be converted into commonly used measurements of antibiotic use.
Dairy Antibiotic Use Calculator (Excel file zipped)
Funding acknowledgement: This material is based upon works supported by safefood, the Food Safety Promotion Board, under Fund No. 04-2018
Codes of Practice
Code of Good Practice for Responsible Use of AMs on Dairy Farms (PDF)
Code of Good Practice for Responsible Use of AMs on Pig Farms (PDF)
Code of Good Practice for Responsible Prescribing & Use of ABs in Farm Animals (PDF)