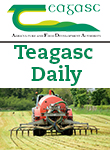 New Hedgerow Planting on Teagasc Farms
12 April 2020
Type Media Article

ENVIRONMENT: The majority of Teagasc farms exceed average of approximately 7% of habitats on intensive farms in Ireland. There are opportunities to increase the quantity.

Daire Ó hUallacháin
Emerging research and policy agendas are based on sustainable management of agricultural land. Objectives of the FoodWise 2025 report and proposals under the new Common Agricultural Policy include the need for effective methods for wildlife conservation, as part of the development of sustainable production systems. With this in mind, significant efforts are being undertaken to increase the quantity and improve the quality of habitats on Teagasc farms. A recent Teagasc study indicated that there was an average of approximately 7% of habitats on intensive farms in Ireland. Whilst the majority of Teagasc farms exceed this percentage, there are still opportunities to increase the quantity, but more importantly to improve the quality and connectivity of existing and new habitats.
Hedgerows are the dominant habitat on most Irish farms; however, the quality of many hedgerows is low. High quality hedgerows provide multiple benefits, including providing shelter for stock and improving biosecurity; improving water quality; storing carbon; and acting as a home for biodiversity. Winter 2019 and Spring 2020 has seen a significant hedgerow planting regime on many Teagasc farms (Fig 1). This regime has seen hundreds of meters of hedgerow planted on some Teagasc farms, and over 1,000 meters planted on a number of other farms, with additional planting planned over the next few years. The new planting regime has seen the establishment of two hedgerow mixtures on most farms; low diversity hedgerow mixtures (i.e. whitethorn and blackthorn) and high diversity mixtures (i.e. whitethorn, blackthorn, and at least 5 other native hedgerow/tree species). It is anticipated that this establishment design will facilitate future research on the impact of hedgerow plant diversity and management on various environmental services ranging from biodiversity to carbon storage.
Many of the existing habitats on Teagasc farms (and intensive farms in general) are located on the boundary or perimeter of the farm. Whilst they are still important habitats in their own right, this approach does not always integrate wildlife, and associated environmental services, into the main agri-system. With this in mind, the new hedgerows planted on Teagasc farms are being targeted to the interior of the farms. This targeting will not only improve connectivity between existing habitats (with new hedgerows acting as wildlife corridors), but it will also provide other services such as shade and shelter for livestock, and potential benefits for water quality, and carbon storage.
Whilst establishment of new habitats is a great opportunity to increase habitat quantity, it is important to optimise the wildlife value of existing farmland habitats before new measures are established. It is typically more effective to retain existing habitats rather than establishing new ones. Thus existing habitats, including hedgerow and non-hedgerow habitats (e.g. riparian margins, woodlands, field margins) are being retained on Teagasc farms, and are being managed in a sustainable manner to improve their quality for biodiversity (Fig 2) but also for multiple services such as pollination, water quality, biocontrol and carbon storage.
These actions along with other practices will contribute to building sustainable production systems, protecting and enhancing wildlife and associated natural resources.
https://www.teagasc.ie/publications/2019/conservation-of-farmland-wildlife-and-habitats.php
Figure 1: Newly planted high diversity hedgerow at Teagasc Oak Park.
Figure 2: Farmland species such as the yellowhammer are dependent on high quality hedgerows for nesting